Greenshields Cowie's parent company, Crown Agents, is the managing agent for the Health Pooled Fund in South Sudan. In the past year alone over 1000 tonnes of lifesaving drugs and medical supplies were distributed across 80% of the country by road and air.
For the second year running Crown Agents has been declared winner in the Extreme Logistics category at the 2019 Supply Chain Excellence Awards.
Crown Agents in partnership with international freight forwarding company, Greenshields Cowie and the International Procurement Agency, picked up the prize for their outstanding performance in ensuring the timely delivery of lifesaving medicines to the people of South Sudan as part of the multi-donor Crown Agents-led Health Pooled Fund.
At the prestigious award ceremony earlier this month, a select panel of judges from some of the biggest names in the industry, recognised the team's commitment to continuous innovation and improvement, which has reduced waste and maximised efficiency at all junctures along the supply chain.
Left to right: GSC Director Graeme Kelly, IPA Director Bob Vlietstra, GSC Business Development Executive Saam Osbourne and HPF Supply Chain Programme Manager Giovanna Riggall .
The team were pitted against a tough line up of deserving competitors but came out top, even beating the RAF!
Greenshields Cowie Director Graeme Kelly said "We are thrilled to have been selected as the winners of the Supply Chain Excellence Extreme Logistics award. This achievement pays testimony to the team's drive and commitment to ensuring the end-to-end supply chain process is as efficient as it can possibly be in one of the most difficult and volatile environments in the world. In South Sudan they are under immense pressure to deliver on time so that lives can be saved."
South Sudan has been mired in conflict since its birth in 2011 and is one of the most fragile and least developed nations in the world. Inter-ethnic civil war has killed more than 400,000 civilians and displaced millions internally and across borders. Under such conditions logistical challenges are unpredictable and acute, yet time and again Crown Agents team has delivered for South Sudan's citizens ensuring that essential drugs and medical supplies are delivered on time to over 800 clinics serving 80% of the population across the country.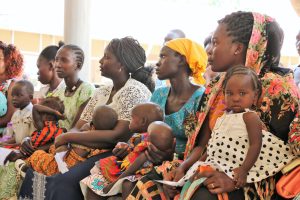 Shedding light on the team's motivation and approach to tackling unforeseen risks in such extreme circumstances, HPF Supply Chain Programme Manager Giovanna Riggall said:
"The team are incredibly dedicated and take the work very seriously. They are highly conscious that any errors along the supply chain which lead to stock outs or delays might mean that a child could die.
"We're operating in a context where there are no roads, where heavy rains cause floods and where there is insecurity and corruption. We also can't rely on WiFi or internet access in remote areas, but we have to be lean and incredibly fast in our communication, which means we are essentially reliant on our people 's expertise and proactiveness. In the field we have to continuously re-engineer our processes as advanced technology is rarely an option. At the same time we are under pressure to deliver on time so thinking outside the box pragmatically is often key to finding solutions!"