Our dangerous goods qualified team, who have a combined 170 years' experience in logistics management, successfully move cold chain, dangerous goods and hazardous materials via multi-modal transport, from pharmaceuticals and mosquito nets as part of donor funded programmes, to military vehicles and fireworks.
Our experience clearly shows that regardless of the commodity or complexity of the location and terrain, we will get the goods to their final destination.
A combined 170 years' experience in logistics management.
Greenshields Cowie provides freight forwarding and logistics management services in complex environments and dangerous destinations. The majority of GSC's recent business has involved a multimodal approach; a key feature of donor-funded, aid relief and health programmes, especially those involving the movement of goods into Africa, Asia and the Middle East, and often with a final mile component.
With a wealth of experience in navigating difficult circumstances from the beginning to end of the process, GSC is renowned for delivering to the last mile, even in the most challenging and remote environments.
GSC offers a vital understanding of the bureaucratic, environmental, and infrastructural challenges of less developed economies; and has over years, developed a reliable network and knowledge both among national authorities and service providers, global transport suppliers, and cargo airlines.
Standardised or process driven approaches cannot deliver the necessary performance or impact in fragile environments. Our solutions are drawn from the deep specialist experience of our team, and are tailored to each individual context.
Through individualised management of the project, we will evaluate and select the most appropriate approach and through proactive monitoring throughout, anticipate risk and adapt this to deliver optimal performance.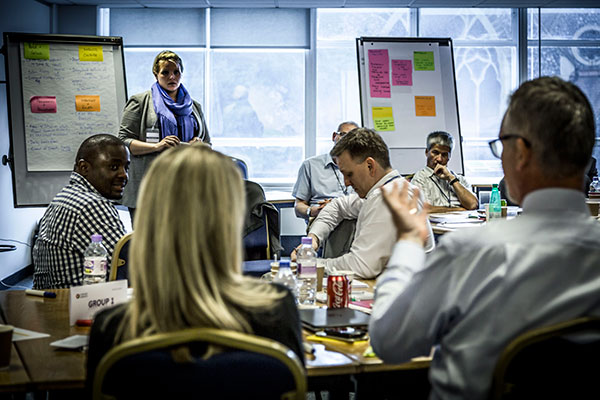 Our specialist project management approach means that our dedicated staff will go above and beyond expectations to ensure that all multi-modal transport deliveries remain on schedule.
Our project management approach means that you have one contact throughout the entire delivery process. We care about our clients and we care about providing the best possible service for them. Often working 24 hours a day to achieve outstanding results, we remain contactable to solve any issues as soon as possible.
Our senior freight and logistics practitioner, with over 38 years' experience in multi model freight operations. As a preeminent freight specialist in fragile and developing country environments, Ron has an extensive success record in designing and implementing end-to-end freight solutions for donor health programmes, including final mile distribution to end-users.
With a vast experience of and knowledge of programme needs, and processes of major world donor organisations, including DFID, USAID, EC, and the Global Fund, Ron has personally practised logistics project management in Angola, Ghana, Kenya, Nigeria, Senegal, Uganda and Sierra Leone, overseeing and advising on customs clearance, warehousing and inland distribution.
'Since joining Greenshields Cowie, I have developed invaluable relationships with our local agents on the ground and with shipping lines, suppliers, donors and end-users. Greenshields Cowie is in a unique position to make a real difference. We give our projects every effort because we are helping some of the world's most vulnerable people to live better lives and to have healthier futures.

I head up a team of dedicated individuals who have been carefully selected for their passion for logistics and a real desire to succeed. I am very proud of the great work we do'.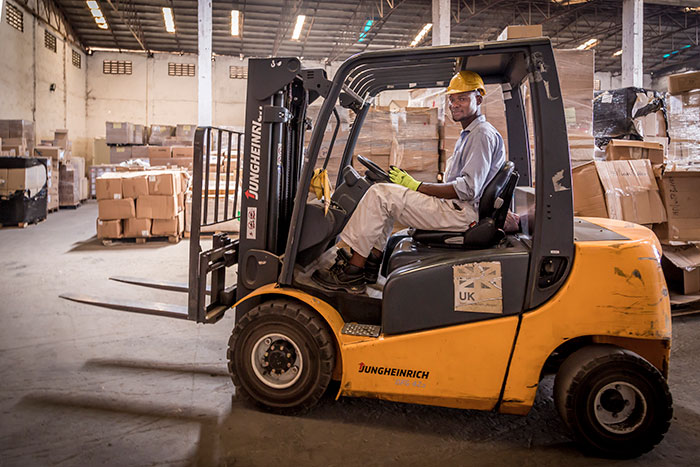 A senior logistician with over 13 years' experience managing bespoke, high performing multi-modal logistics solutions for donor health programmes in fragile and developing country environments. Sophie heads up our team of freight forwarding specialists based at the Greenshields Cowie Head Office in Sutton, United Kingdom.
With a responsibility for end-to-end operational management of the logistics chain, Sophie manages all freight process from loading at point of origin through to customs clearance and final mile deliveries on behalf of donor health programmes.
She also manages our commercial client portfolio, and has led relationships with these long-standing clients since joining the team over 13 years ago. Sophie also manages the relationship with Greenshields Cowie's insurance provider, ensuring adequate cover is always in place.
'Since joining Greenshields Cowie in 2002, I've had the opportunity to work on many humanitarian projects that make a lasting difference to people's lives. Each day, we help deliver goods to some of the world's most vulnerable communities.

It's people in real need and often in life-threatening situations that we need to reach. I work closely with our office in Nigeria to deliver health commodities to some of the most dangerous states throughout the country, but it is essential that these medicines reach all people in need. I recently had the opportunity to travel to Abuja and Lagos and to see the impact of our work first hand.'
'In the UK, I head up a team of dedicated logistics professionals and I am very proud of their commitment and the good work we do.

We do go the extra mile, often putting our personal lives second to get the job done. I've seen my team work 24 hour shifts throughout national holidays, because when a natural disaster strikes or during the outbreak of a humanitarian crisis, we don't hesitate to give our emergency response 100%.'
A leading freight management expert with over 18 years' risk based logistics project management experience in fragile and developing country environments.
Kellyjo is an emergency response expert who was the Logistics Lead for the UK Government Ebola Response in Sierra Leone.
"Since the Ebola crisis started back in October 2014, our team worked 24 hours a day preparing for the emergency humanitarian aid AN12 flights departing from the UK every 48 hours.

It was a rigorous schedule, but when lives are at stake, our dedicated Ebola team worked tirelessly to move a total of 1,500 tonnes via air and road into Freetown, including onward delivery to the 6 DFID-funded emergency treatment centres within Sierra Leone.

We are very proud to have helped the fight against Ebola and have supplied very sick and vulnerable patients with essential medicines, as well as providing personal protective equipment for the volunteers at the treatment centres."
"For those who did survive, we supplied essential medicines to aid their recovery, and it's heartening to hear that the record of new cases has fallen so significantly in Sierra Leone.

But we shouldn't forget the volunteers who have heroically fought this disease at the front line and who are continuing to work in Emergency Treatment Centres; we provided these people with life-saving personal protective equipment so that they can continue to care for very sick and vulnerable patients. Seeing first-hand the value and impact of Greenshields Cowie's work is what has kept me here for the last 18 years. There aren't many jobs where you can see that your work is changing and even saving people's lives."
One of our senior logistics project manager's with over 19 years' experience in the implementation of bespoke logistics solutions in fragile environments.
Jane has an extensive success record delivering end-to-end freight solutions for donor health programmes, including diplomatic shipments and final mile distribution to end-users. With an extensive track record of logistics programmes for landlocked countries, Jane provides invaluable support to all her clients requiring deliveries into countries such as South Sudan and Afghanistan
She is also an emergency response expert who has contributed to the freight and logistics effort of the UK Government's Response to Cyclone Pam which hit Vanuatu and Hurricane Haiyan which devastated the Philippines.
'I make frequent deliveries of vehicles, bridging and humanitarian aid items to various inland destinations within fragile regions such as Afghanistan and Iraq. Our knowledge of routes is essential, especially as circumstances can quickly change and access routes can become blocked.

This is where our experience of the area and security procedures is absolutely vital in ensuring that potentially life-saving equipment is delivered to people on the ground safely and on time'.
'In January, I was delighted to represent Greenshields Cowie at the annual BIFA Freight Awards Ceremony and to accept our finalist certificate for the sought after Project Forwarding Award. It's great to have our work acknowledged, and it's important to recognise the impact of the work we do.

As a result of delivering 347 containers of bridging equipment into Pakistan's Mingora region, which had been severely affected by flooding, we were able to provide over 20 million stranded and vulnerable people with vital access routes. Knowing that we are improving people's quality of life, and in some cases, to saving lives, make working at Greenshields Cowie all the more rewarding'.
Ray Bell & Jean Allnutt
Air Freight Experts
Our air freight experts who joined Greenshields Cowie in 2000. For over 40 years, Ray and Jean have worked together providing air freight solutions to thousands of clients in Africa, Europe, Australasia, the Middle East and the Far East. As air charter specialists, Ray and Jean are integral to the GSC's emergency response team where life-saving goods are urgently flown to countries in crisis in support official response programmes.
Recently supporting DFID's CHASE OT department following the devastating earthquakes in Nepal last month, Ray and Jean completed all paperwork to dispatch the emergency humanitarian relief items from Karachi for the first air charter within just four hours of the alert. With direct electronic access to Customs, Jean processes all import and export clearance documentation required for all GSC movements.
Ray and Jean mobilise immediately during the outbreak of a crisis and are trusted by our clients to deliver emergency supplies safely and at speed. Maintaining excellent relationships with key carriers and stakeholders at London Heathrow, East Midlands and Doncaster airports, including personnel at government bonded warehouses, Ray and Jean are well equipped to respond to any emergency and also provide longer-term assistance to support post-crisis stabilisation programmes.
In recognition of their work supporting DfID's emergency response to the Ebola crisis in Sierra Leone which involved moving 2,111,184 kgs of emergency humanitarian cargo into Sierra Leone on AN12 and MD11 aircraft as well as Boeing 747's, Ray and Jean are part of the team that have just been nominated as finalists for the prestigious Global Freight Air Freight Solutions Provider of the Year Award.
'Ray and I have been friends since we were 25. Back then, we both had a background in air freight movements and a lifelong career together went on from there. Since joining Greenshields Cowie, we have worked on thousands of air freight movements and customs entries. Whilst we enjoy working together the hard work shouldn't be underestimated. We work to a very demanding schedule, and you are effectively on call 24 hours a day, 365 days a year.

The nature of emergency response means that you are always on hand to mobilise quickly to ensure that essential aid items can reach people in crisis before the situation escalates.'
A logistics executive who is responsible for freight movements and insurance quotations for donor organisations, NGOs and commercial clients. Maria drives forward GSC's change management initiative, and is well versed in data management processes, finance administration, quality control audits and due diligence procedures. She is also an expert user of CRM, Azyra and the US Magaya freight forwarding systems.
Responsible for the management and delivery of personal effects of staff deployed to developing countries, Maria has excellent customer service skills and has the deep trust of clients to move their household goods when deploying to developing companies. Maria recently deployed to the US herself, where she managed the relocation of the GSC Florida office to Washington DC; she continues to support GSC USA from our head office in the UK with daily operational needs and logistics requirements for long standing clients moving goods into the Caribbean.
'I joined Greenshields Cowie in 2014. During a short space of time I have been involved in a number of important initiatives to review and improve the way we work and how we can better serve our clients. It's very satisfying to lead the way implementing new due diligence procedures which is so important in our line of work. I frequently travel to our Liverpool office to train staff in the use of new IT systems as we continually look to modernise and improve internal processes.

It's important to constantly challenge ourselves to be better and I like to be a part of the drive forward. Customer care has always been extremely important to me, and it's great to work for an organisation that focuses on that aspect of our service so thoroughly.'
A senior adviser in customs and trade facilitation with a logistics and trade procedures background.  A Fellow of the UK's Institute of Export and an accredited trainer in international trade procedures and logistics, he delivers consultancy and training globally for public and private sector stakeholders.
Jon specialises in project managing logistics operations in emerging markets, developing and conflict affected regions.  He was deployed to Iraq between 2004 and 2008 as DFID's seconded International Transportation Adviser for Southern Iraq, and currently provides expert inputs on trade procedures and logistics matters to USAID, EU and JICA regional initiatives.
His regional experience includes West Africa, East Africa, Southern Africa, Afghanistan, Iraq, Pakistan, Kuwait, Jordan and Kazakhstan.